The Flash Says: "We realize that not everybody has access to a full service machine shop, so we offer some machine shop services to our parts customers. Feel free to call if you need anything, and we'll do our best to help you out."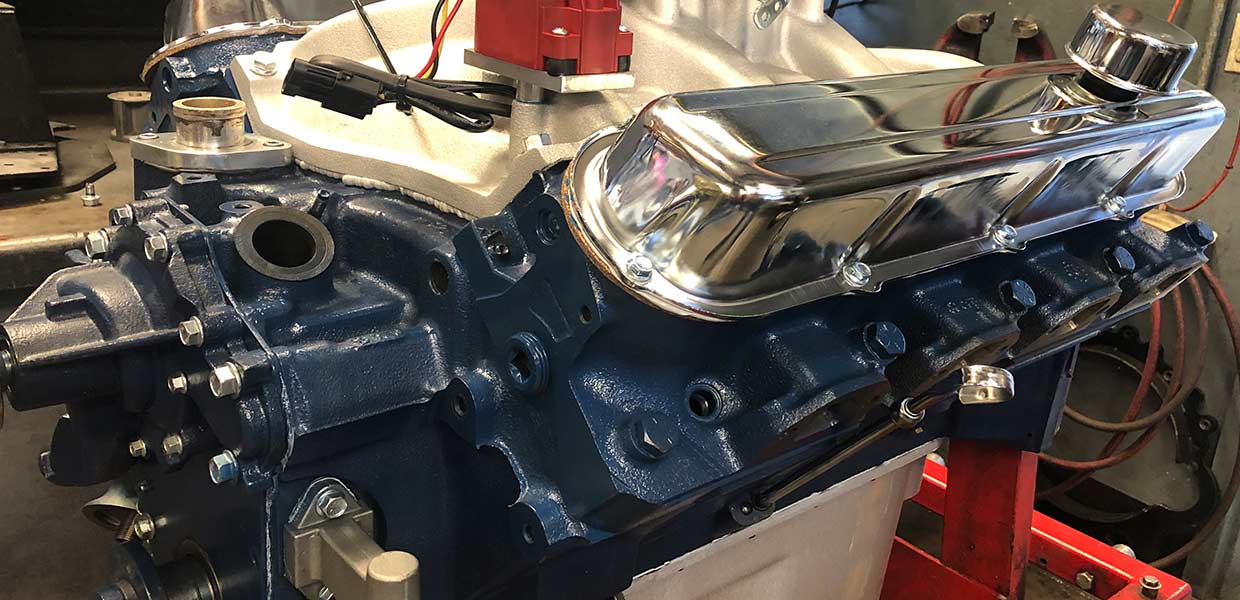 Machine Shop Services, a-la-carte
Cylinder Heads
Disassemble Heads for Cleaning / Testing
Clean Heads.
Pressure Test Heads
Magnaflux Iron Heads
Surface
Replace Valve Guides
Replace Valve Seat
valve job
Engine Block
Vat Clean Block
Vat Clean Complete Engine
Bore and Hone Block
Deck Block
Line Hone
Install Cam Bearings and Freeze Plugs
Rotating Parts
Re-size / Re-con Rods
Assemble Pistons on Press-Fit Rods
Balance Rods and Pistons
Balance Crankshaft
Balance Complete Rotating Assembly
Note: We can supply customers with balanced rods and pistons, and also supply you with the weight numbers to have your crankshaft balanced locally. We can e-mail or fax your weights prior to shipping the parts so that you can have your crank balanced and ready by the time the truck arrives with your goodies.
Fly Cut Pistons for valve clearance or compression relief priced per application
Assembly
Rebuild Cadillac Cylinder Heads

magnaflux
re-work seats and guides as needed
valve job
install springs
set correct spring pressure
Rebuild Cadillac Cylinder Heads and Install Oversized Valves

magnaflux
re-work guides as needed
cut seats for oversize valves
set correct valve stem height
valve job
install springs
set to correct spring pressure
We no longer sell or assemble short blocks and long blocks. Turn-Key only.
Testing and Tuning
Dyno Tuning Cad Company offers a full range of dyno tuning services for all of your Cadillac performance needs, with our state of the art multi-channel Dyno-Max dual-head water brake engine dyno and in-ground eddy-brake chassis dyno.
Engine dyno services start at $600 for the 1st day (including hookup) and $500 for each additional day. Tuning options include EGT, WBO2, programmable ignition advance from the control console, and a wide range of other tuning aids.And, of course, we always have a wide variety of high performance Cadillac engine parts in stock, if you would like to try different parts on your engine to see the results.
Chassis dyno services start at $100 for the hookup and first 1/2 hour, and $50 per additional 1/2 hour. Tailpipe WBO2 is standard, and a full range of other optional tuning aids are available, as well. Our chassis dyno bay includes a 10k Lb 2-post lift, 36″ roller wide enough for duallies, drive-through bay, and tie-downs / space for FWD and RWD vehicles. Parts changing, etc is available for an additional charge, or you can bring your own tools (and help, if you like) and do it yourself.
Hosting for chassis dyno events, such as charity and club day events, is available on Saturdays by special advance arrangement.
Other Services
Custom Mounting Bracketry We offer custom bracketry design and fabrication for special applications. Custom work is billed strictly on a time-and-materials basis, and requires a non-refundable deposit. Options include traditional fabrication (bending and welding) and CNC machining. We normally work in aluminum and steel, but other materials are available as needed, such as stainless steel. Due to the nature of our business and the unpredictable nature of custom work, lead times can be extensive when our shop is backed up with regular work (which is often).